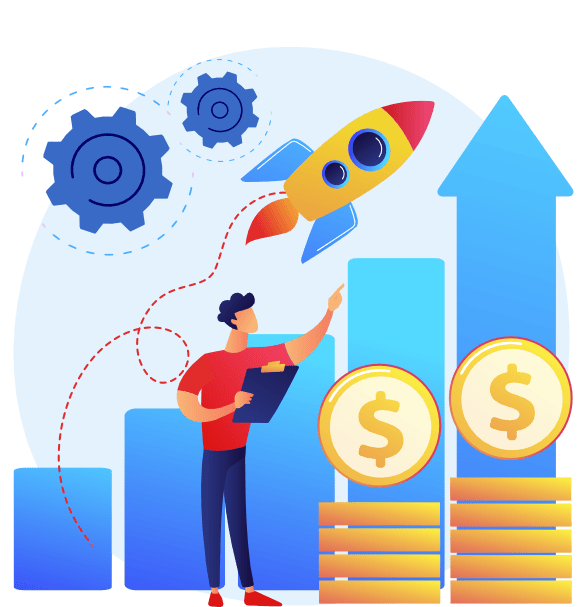 Enterprises are widely embracing the notion of cloud computing today, seeing its exceptional benefits like on-demand resources, infrastructure, software, etc.  Apache CloudStack™ is one such top-level open-source, multi-tenanted cloud orchestration platform that helps you deliver IaaS (Infrastructure-as-a-Service) in cloud environments. With CloudStack, you can deploy and manage your public, private and hybrid clouds efficiently and faster.
In this post, we are going to see why and how Apache CloudStack is the best open-source cloud computing platform for your public cloud business:
History of Apache CloudStack™
Apache CloudStack was first developed in VMOps by Sheng Liang, who built the JVM (Java Virtual Machine) at Sun. VMOps was founded in 2008 and later in the year 2010, the company officially launched CloudStack which was 98% open-source. In 2011, Citrix acquired CloudStack and then released the remaining code as open-source based on GPLv3.
Later in April 2012, Citrix handed CloudStack to the ASF (Apache Software Foundation) who crafted it to become the best cloud computing platform today.
What is Apache CloudStack?
Apache CloudStack is an industry-leading project which develops open-source software for seamless deployment of public and private IaaS clouds.
It provides a robust, open and flexible cloud orchestration platform which ISPs, telco operators, data centers and web hosting providers can leverage to deliver scalable public and private clouds to their patrons.
Features and Functionalities of Apache CloudStack:
Apache CloudStack supports multiple hypervisors such as XenServer, KVM, XCP (Xen Cloud Platform), Microsoft Hyper-V and VMware ESXi with vSphere. This is what makes the platform perfect for virtualization, load balancer & VPN configurations and highly available, scalable and complicated networking. Not just that, it also supports multi-tenancy, which is one of its biggest highlights.
Using CloudStack, companies can build feature-rich public and private multi-tenant cloud environments. It offers an intuitive UI (User Interface) and rich API to effectively pool storage, software, networking and compute resources. It comprises a full stack of features for IaaS cloud such as user and account management, open native API, intuitive UI, compute orchestration, accounting of resources, and so on.
Furthermore, enterprises can manage their cloud through command line tools and an intuitive web interface. Plus, a fully featured RESTful API helps with easy integration of other tools and automation frameworks. The full and open API is compatible with AWS EC2 and S3; hence organizations can seamlessly deploy hybrid clouds as well.
Benefits of Apache CloudStack:
Top-class services: Apache CloudStack helps you deliver best IaaS solutions and services in the hosting market. It offers a versatile set of tools and functionalities to run cloud services, distribute internal workloads as well as offer public workloads to customers.
Powerful API: It has a powerful native API that easily integrates with extensive third-party services.
Robust administration: It offers powerful administrative capabilities to manage users, assign management tasks, segregate cloud resources and so much more. This provides enhanced visibility into the activities running in your network related to cloud.
Hypervisor Agnostic: It supports popular hypervisors, which makes it a highly flexible solution that easily integrates with any VM monitor.
Main challenge: Increase business agility to gain competitive edge
Today, there are myriads of hosting providers out there in the tech industry, each promising to offer exceptional cloud computing services to the customers. With this growing market demands, it gets overwhelming for organizations to keep up, as each entity strives to enhance their competitiveness. Maintaining leadership and sustaining rapid growth in the hosting market requires companies to constantly innovate and expand their services.
In this journey, flexibility and scalability of the platform prove to be major challenges for hosting providers.
All of these issues call for a robust solution that will eliminate the complexities in deploying IaaS clouds, allow easy integration via fully open native API and offers a highly intuitive UI for better cloud orchestration. CloudStack does exactly that!
How does Stack Console use Apache CloudStack?
Stack Console is built on top of open-source Apache CloudStack™ making it a turnkey solution to offer IaaS public and private clouds to customers with self-service provisioning and cloud management personalized to each unique environment.
Apache CloudStack together with Stack Console aims to accelerate deployments of IaaS (Infrastructure-as-a-Service) public clouds within a few weeks. The platform aims to reduce complexities for enterprises who struggle to find quality technical resources. CloudStack is extremely stable, easy to deploy and also easy to upgrade and manage. It is the best cloud computing platform, as its core objective is to provide top-class IaaS to the user.
Stack Console leverages Apache CloudStack™ to offer following benefits to the users:
High level of proficiency in managing large production setups for IaaS clouds
End-to-end uptime of the systems with 24*7 SLA-based service
Self-service provisioning
Cloud management customized to each unique cloud environment
Roll out cloud services to the market in lesser time
Building all the tools and functionalities around CloudStack in-house to offer flexibility and customization to the users
Flexibility to scale resources up or down as per the market demands
Flexibility to offer cloud services across various networks and companies without any vendor lock-ins
Automates intensive tasks to reduce the IT operational costs and accelerate service delivery
Ability to standardize workloads to ensure consistency within application and service delivery
Deeper visibility into usage of services and resource allocation
Why Choose Stack Console for Apache CloudStack Services?
In the hosting market, many providers wonder which is the best cloud computing platform they could leverage to offer IaaS to customers. No doubt, Apache CloudStack tops the list as one of the best open-source cloud computing platforms today. This is due to its exceptional product maturity, open APIs, ease of implementation and excellent ability to integrate with existing systems.
Stack Console platform will take your CloudStack experience to a whole new level with its years of expertise and experience in managing IaaS clouds. A team of highly qualified professionals help telco operators, data centers and web hosting providers enhance the CX (customer experience) through self-service provisioning, custom UI, easy integration with other tools and exceptional load balancing abilities.
Stack Console helps enterprises retain cloud continuity, streamline daily operations, drastically reduce TTM (Time-to-Market) and boost SLA. Leverage Stack Console to offer custom IaaS solutions to your patrons with remarkable flexibility. Our solutions are 100% White Label, hence you can customize the cloud as per your unique business needs.