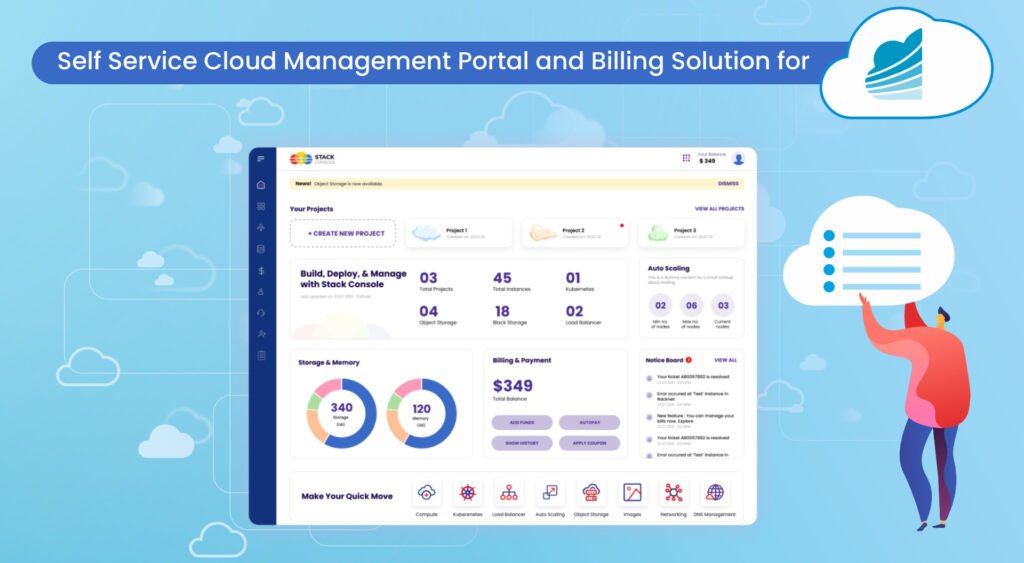 There are a myriad of cloud service providers in the industry. We know that CSPs aren't limited to companies offering VMs or web hosting to customers. Even large enterprises leverage cloud services to support internal architecture and cater to the needs of their staff and end-users. 
Regardless of what type of service provider you may be choosing the best cloud management platform could be overwhelming. However, a successful cloud business is founded upon a robust and reliable infrastructure. Basically, OpenNebula is one such cloud and edge computing cloud platform that is feature-rich and offers excellent scalability, flexibility, and high availability.
If you are looking to unleash the true potential of a Cloud Management Platform for OpenNebula to take your cloud business to the next level, you're at the right place.
In this post, we'll be learning how Stack Console offers a powerful Cloud Management Platform and Billing solution for OpenNebula and what benefits you can reap from it:
What is OpenNebula?
OpenNebula commenced in 2005 as a research project and was publicly released in 2008. 
OpenNebula is a Europe-based, open-source, feature-rich cloud and edge computing platform used to build and manage enterprise clouds and virtualized data centers. The platform can integrate existing virtualization technologies with cutting-edge features such as automated provisioning, multi-tenancy, scalability, and flexibility. 
With OpenNebula, enterprises can centrally administer and monitor various storage and Hyper-V systems. Moreover, OpenNebula offers a self-service portal and billing capabilities to clients as well. The interoperability feature makes OpenNebula exceptional as it leverages your existing IT assets, avoids vendor lock-ins, and safeguards your investments.
However, one of the main challenges of OpenNebula is managing data centers for large enterprises. And OpenNebula doesn't offer good backup features. So, that's where Stack Console comes in!
Design Principles of OpenNebula:
The OpenNebula allows efficient management of VMs across distributed infrastructures where the main design principles of OpenNebula are as follows:
Flexible enough to conform to any data center
Open technologies make code, interfaces, and architecture highly flexible
Portability and interoperability avoid vendor lock-ins
Scalable, even for large-scale infrastructure
Stable to be used in enterprise-grade production environments
Simple and lightweight makes it highly efficient and easy to deploy & use
Centralized portal to allow Sysadmins to entirely control the cloud
Benefits of using OpenNebula
OpenNebula responds faster to infrastructural needs related to cloud services. It allows you to add new hosts, and partition dynamic clusters as per the capacity requirement of services.
With OpenNebula, enterprises can centrally manage all physical and virtual distributed systems.
It leverages existing IT assets and allows you to create cloud infrastructure with heterogeneous assets across data centers. Different teams share infrastructures and manage individual production clusters without any application silos.
Consolidates servers to a limited number of physical systems, reducing operational costs, space, admin efforts, and cooling/power needs.
Combine remote and local cloud resources, thereby reducing infrastructure costs and preventing overspending on systems.
For end-users, OpenNebula allows scalability and faster delivery of services to cater to dynamic market demands.
Fully controls and manages the lifecycle of virtualized services.
It has open, extensible, and flexible architecture, components, and interfaces to adapt to any data center.
Is able to build any type of enterprise cloud
Distributed under Apache 2 License
Seamlessly integrates with any product/service within virtualized system across data centers such as service manager, VM manager, virtual image manager, etc.
Fully automated operations with elasticity to deploy clusters on-cloud and on-prem within a few minutes.
Supports VMs and containers within a common shared environment
Can leverage infrastructure resources from Google, AWS, and Equinix to seamlessly deploy hybrid and edge environments.
Ideal for heterogeneous execution environments with distinct software needs on a common shared infrastructure 
Seamlessly integrates with multiple virtualization technologies such as Firecracker, LXC, KVM, and VMware.
Stack Console Self-Service Cloud Management Platform for OpenNebula:
Stack Console works as the best Cloud Management Platform to unlock the power of the OpenNebula platform while keeping your unique product/service and support requirements in mind.
Built on top of OpenNebula, Stack Console offers an out-of-the-box computing solution paired with expert Consultancy services to help cloud businesses with OpenNebula migration, installations, setup, Auto Scaling, Networking, Compute, Billing, and much more.
Stack Console's Cloud Management Portal designed for OpenNebula, will help you seamlessly integrate third-party services, configure cloud instances, and build a highly scalable enterprise cloud as per your unique business requirements. In addition, the CMP offers a centralized console where enterprises can leverage features such as auto-scaling, block storage, load balancer, Kubernetes, etc., for OpenNebula cloud resources. 
Stack Console Billing Solution for OpenNebula:
Stack Console offers a robust self-service platform for delivering cloud solutions where end-users can provision and manage their OpenNebula resources, without waiting for a response from the support team. Additionally, the self-service cloud management portal has a simple, intuitive interface with an automated and scalable billing solution to easily bill and invoice your clients with different payment models.
Key Features of Stack Console Cloud Billing and Subscription Software:
Set billing cycles for OpenNebula cloud resources to easily manage invoices
CMP offers hourly, monthly, and yearly prepaid and postpaid billing methods to offer greater control over transactions
Leverage the spend-based wallet approach to easily keep track of billing, usage, and subscriptions
100% White Label software for OpenNebula with custom UI/UX designs. Customize the platform and sell it as your own brand.
Supports credit limit-based billing.
Why Choose Stack Console?
Stack Console offers a powerful, feature-packed Cloud Management platform for OpenNebula along with a unified billing solution- all in a single place. The CMP platform gives utmost priority to security, reliability, and maximum uptime without affecting performance.
Whether you are a hosting provider, data center, or have a subscription-based business, Stack Console will help you reap the maximum benefits of the OpenNebula cloud computing platform with automation and auto-scaling capabilities. 
Stack Console offers a turnkey solution to cloud businesses where they can achieve excellent operational efficiency with CMP's automated provisioning, orchestration, monitoring, analytics, backups, and recovery capabilities. All of this is possible while optimizing cost, usage, and capacity for your cloud business!
Finally, Stack Console provides a single pane of glass to help enterprises with end-to-end cloud management. 
Want to know more about how Stack Console integrates with OpenNebula? Contact us today!