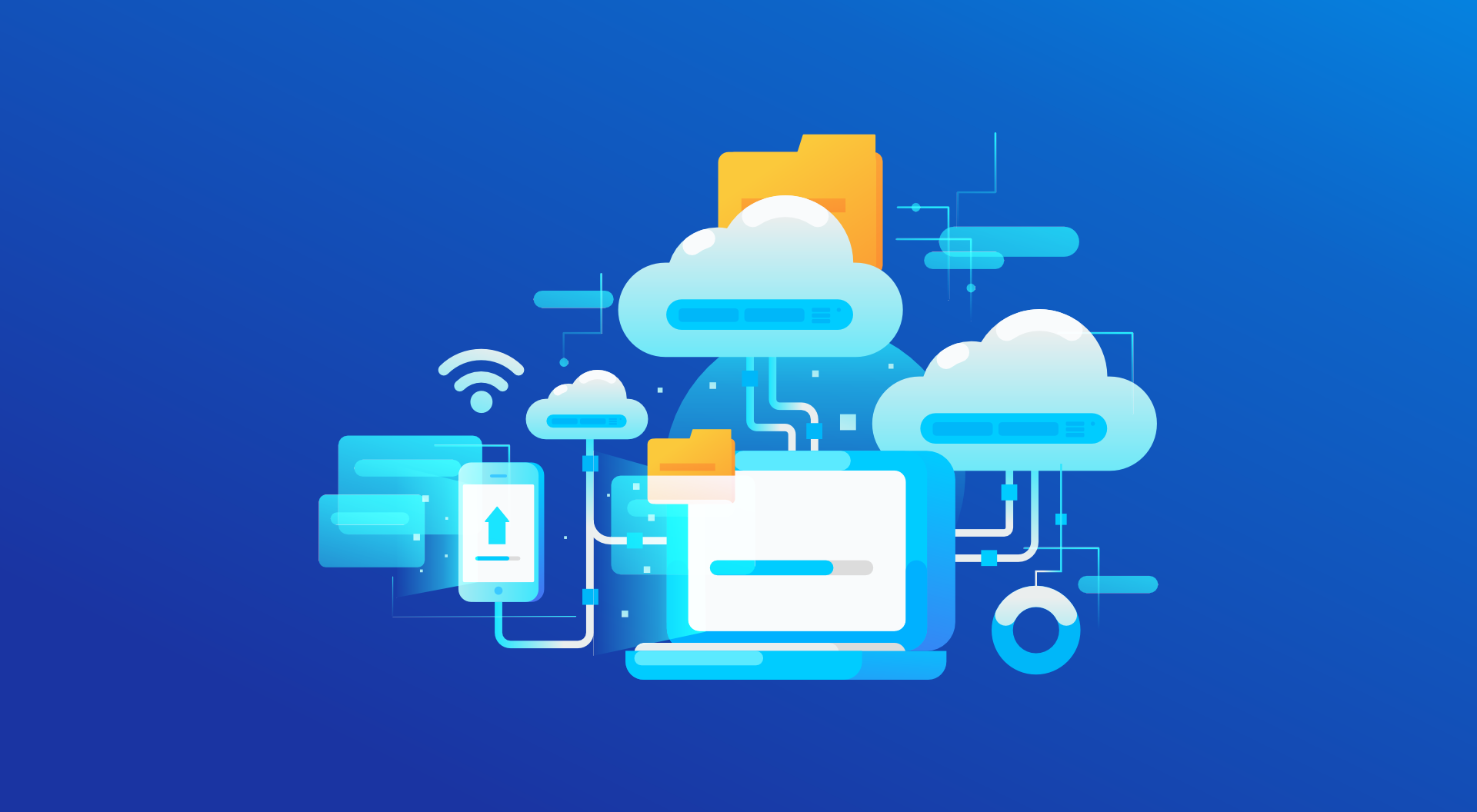 Prologue:
One of the biggest trends in the cloud computing sector nowadays is – Infrastructure-as-a-Service (IaaS). Today our expert team of engineers is here to help enterprises discover the benefits of CloudStack IaaS cloud computing which include performance, security, scalability, and support.  According to Quarterly Cloud, IT Infrastructure Tracker released by the IDC (International Data Corporation), spending on IT infrastructure is going to increase by 12.9% which will roughly reach a projected total of US$ 4.4 trillion in 2022. What does it show? The IaaS (Infrastructure-as-a-Service) is going to stay here!
What is Cloud?
Cloud is made up of servers that are located in data centers across the world and these servers are fetched by the users to access their files and applications using any device, at any time from any location. Many people call the cloud a magical place because here all our data stays safe and secure. Hence cloud service is really important to the businesses that store their customer data and inventory in-house, which is expensive.
What is Infrastructure-as-a-Service?
Infrastructure as a Service (IaaS) is a cloud computing service where businesses rent or lease servers for computing and storage in the cloud, on-demand and on a pay-as-you-go basis.
Since storing and maintaining data on-premise IT infrastructure is likely to be both expensive and work-intensive. As a result, businesses demand an IaaS cloud platform so that organizations can adapt to digital strategies.
IaaS is one of the cloud computing models where complete cloud infrastructure i.e., servers, storage, networking, and many more, is provided and managed by a provider.
Benefits of Infrastructure-as-a-Service in CloudStack:
As mentioned earlier, IaaS is one of the top trends in the Cloud Computing market; along with SaaS (Software-as-a-Service) and PaaS (Platform-as-a-Service). A major advantage of IaaS to businesses is that they can utilize on-demand virtual services like hardware, storage, and networking.
But along with this main utility, IaaS CloudStack technology also helps your business and IT environment to grow remarkably with a few other important benefits:
Improved Performance and reduced Capital Expenditure
Improved Security
Improved Scalability and Flexibility
Improved Disaster Recovery and Business Continuity Support
Improved Elasticity
Let's look at each of these advantages of Infrastructure-as-a-Service in detail:
1. Improved Performance and reduced Capital Expenditure:
One of the major advantages of CloudStack IaaS technology is improved performance and reduced capital expenditure. When your IT infrastructure is supported and managed by a cloud management platform of your choice, you get a more trustworthy, expandable, and resilient cloud infrastructure set up which is far more feasible and financially rewarding than your in-house setup.
This implies that you can save more on your business upfront costs related to purchasing, maintaining, and running hardware, which leads to a decrease in your overall capital expenditure for your IT spending.
It also proves that you can accomplish a greater performance level through your IaaS CloudStack infrastructure. Your SLA (Service Level Agreement) with your IaaS cloud management portal provider makes sure that you get the highest performance from your cloud management platform. This considers your CMP provider responsible for constant upgrades on their end to deliver outstanding services to you as well as your enterprise.
With the help of the IaaS cloud, your internal IT team can focus more on how they can help achieve your business aim and objectives using advanced technologies instead of purchasing the newest hardware devices for your IT infrastructure.
2. Improved Security:
Another important benefit of CloudStack IaaS is improved information security. As security is always considered a topmost priority of every IT environment, but having said that it should also be your most crucial factor when it comes to your IaaS cloud management platform provider. Because if your data is not secure, then your organization is at risk. Hence most of the IaaS cloud management service providers put in a considerable investment in their security provisioning to make sure that your data is safe and secure with them. A number of cloud management platform providers have set up multiple forms of authentications, and complete information security procedures like end-to-end encryption, and encryption at rest for your confidential data. This indicates that your business is getting an advanced level of security than if your business was hosted on the in-house infrastructure.
We recommend that when selecting an IaaS cloud management service provider, it's important to review their security policies and also measure how they'll protect your data to evaluate whether their security procedures will meet the security needs of your business.
3. Improved Scalability and Flexibility:
SIaaS technology provides scalability and flexibility to your business which is an additional benefit. Your business can scale up and scale down on-demand i.e. when traffic to your website boosts, the IaaS providers ensure that your business infrastructure can handle it through automatic provisioning of resources.
Furthermore, just when you open a business at a new location, you don't need to invest time and money in purchasing new hardware to operate that new business, alternatively, you can easily connect with your infrastructure virtually. This implies that as and when your business expands you won't have to constantly invest in extra infrastructure, the IaaS cloud platform will provide the required flexibility to your IT infrastructure.
4. Increased Disaster Recovery and Business Continuity Support:
An additional benefit of the IaaS cloud platform is knowing that your infrastructure is set up for worst-case scenarios. Imagine what the cost would be for your business to invest if your in-house IT infrastructure fails completely? It's HUGE, right? But a lot of IaaS cloud service providers configure their setup in highly secure, accessible, and specifically built data centers that deliver excess power, cooling as well as network connectivity.
In traditional in-house installations, if the setup is deserted or remote and an unfortunate power outage will cause employees to stop working. But with IaaS, downtime will be reduced to a minimum in any circumstances. It'll save your business from losing valuable uptime.
Furthermore, when using IaaS, if your company faces a disastrous incident, then the time required to completely restore your infrastructure would be highly reduced.
Thus, IaaS cloud services enable businesses to moreover improve cloud usage to make the most out of their IT environ. Are you looking for the best IaaS cloud management platform provider? Contact Stack Console for a free demo on migrating to the IaaS cloud platform.
5. Improved Elasticity:
After the COVID-19 pandemic, most companies recognized the importance of IaaS cloud technology. As stated by IDC (International Data Corporation), "[a] lasting impact on IT infrastructure will be an increased reliance on cloud platforms for delivering commercial, educational, and social applications, as well as an intensified focus among organizations on business continuity and risk management, helping to drive digital transformation initiatives and increase usage of Infrastructure-as-a-service delivery models."
Conclusion:
Stack Console -Your IaaS Cloud Management Platform Provider
Now that you have an understanding of IaaS and the advantages of CloudStack IaaS, it's crucial to choose the best IaaS cloud management portal for your business. Among various options in the market, Stack Console CMP stands out, built on top of Apache CloudStack. It offers out-of-the-box cloud computing solutions, along with Apache CloudStack Consultancy services for CloudStack installations, migrations, Kubernetes, Auto Scaling, and much more. With Stack Console, you can propel your business growth using the power of CloudStack.
Ready to change the game with Stack Console? Book a Demo Now @ https://stackconsole.io/book-a-demo