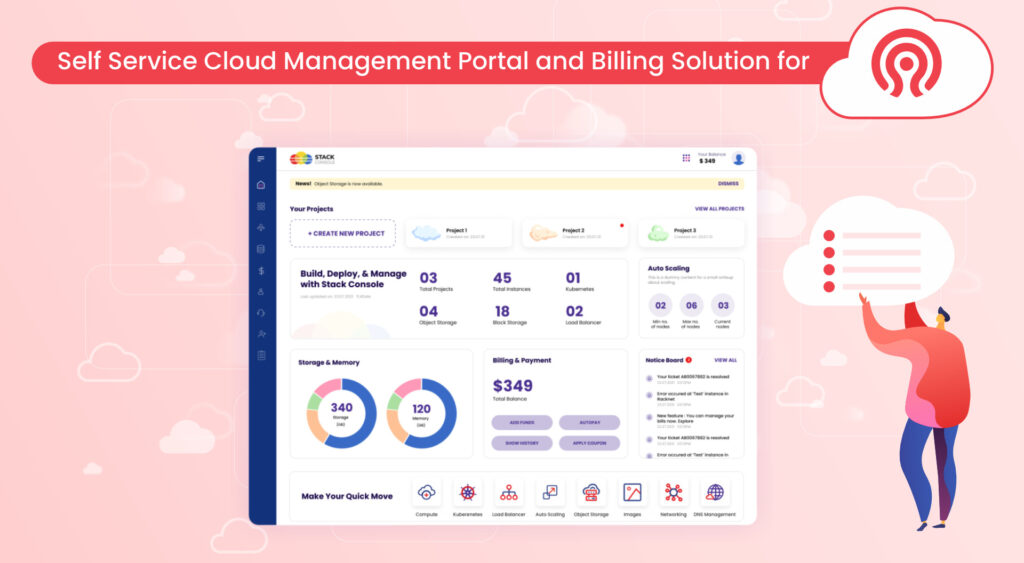 Cloud service providers, hosting providers, and other service vendors require robust storage solutions that can help them manage large, critical enterprise data. 
Today, high-performance and scalable open-source storage systems have paved their way into the cloud. One such prominent storage platform with fast computing speed is – Ceph.
In this post, we are going to learn what Ceph storage is. Also, how Stack Console offers the best Cloud Management Platform and billing solution for Ceph RGW:
What is Ceph?
Ceph is a free (open-source) storage platform that delivers object, file, and block storage on a single distributed cluster system. It is a highly scalable, reliable, and high-performance platform that allows multiple clients to seamlessly access exabytes of data.
Object storage manages data as objects. Each object comprises data, variable metadata, and a globally unique identifier.
File storage manages data as a file hierarchy (POSIX).
Block storage (RBD) manages data as blocks across tracks and sectors.
The main objective of Ceph is to aid fully distributed operation and manage data replication, with no single point of failure. Overall, Ceph's design is self-healing, self-managing, and fault-tolerant. As it handles outages on its own, it considerably reduces administration time and storage expenses.
Ceph is highly available and offers excellent data durability by leveraging snapshots, replication, clones, and erasure coding techniques. 
How Ceph works?
Ceph can deploy five fully distributed daemons on the same set of servers. Hence, users can directly connect with them. The five daemons are as follows:
Ceph monitors (ceph-mon): It monitors active and failed cluster nodes.
Ceph Managers (ceph-mgr): It runs simultaneously with monitor daemons to help external management systems with extra interfaces and monitoring.
Metadata servers (ceph-mds) store the metadata of directories and inodes.
RESTful gateways (ceph-rgw): Itis compatible with OpenStack Swift and Amazon S3 APIs and provides the object storage layer as an interface.
Object storage devices (ceph-osd) store content files.
What is Ceph Storage?
Ceph is an open-source platform that facilitates highly scalable block storage, file storage, and object storage in a single cluster system.
Ceph clusters run on any hardware using CRUSH (Controlled Replication Under Scalable Hashing) algorithm. This algorithm accurately sorts and distributes data across clusters and subclusters. Additionally, it allows quick data retrieval, as and when needed without any constraints.
Thin provisioning, Replication, and Snapshots are the main highlights of Ceph storage.
Here are the reasons why enterprises should use Ceph for PaaS and IaaS storage:
Provides deeper visibility and insights into your business data
Offers object, block, and file storage
Scale business operations and improve TTM (time to market)
Lower latency and improve transfer speed
Allows easy and quick access to storage. Scale up or down as you'd like.
Ceph offers a high-performance storage platform that supports a new scale of exabytes. Such a type of modern, hyper-scalable storage is perfect for cloud models.
What is Ceph RGW?
Ceph- a cutting-edge storage solution that makes use of distributed object storage. It has a native object storage gateway known as RGW that can run on multiple cluster members and be used by programs to add or remove objects.
RGW stands for RADOS Gateway. 
RADOS is an autonomous distributed object store that comprises intelligent, self-managing, and self-healing storage nodes. RADOS Gateway is a bucket-based REST gateway that is compatible with OpenStack Swift and Amazon S3 APIs.
Implementing Object Storage
Enterprises can employ object storage at multiple levels such as interface level, device level, and system level.
Object storage offers the following unique capabilities:
Interfaces are programmable directly via APIs
Namespace extends to multiple instances of hardware
Allows authenticated remote access
Aids data management functions like replication and distribution at a granular, object-level
Benefits of Object Storage:
Storing Unstructured Data
Any type of unstructured data that has metadata and isn't often manipulated is ideal for Object Storage. 
Object storage aids the backup and recovery of critical business workloads and applications to keep them up and running. Additionally, the cost-effective storage solution is highly resilient, making it ideal for data backups. Consequently, this ensures business continuity and lowers the risk of data loss in case of a disaster.
Businesses that need to retain data or keep records for a long period of time can leverage object storage, as it is cost-effective.
Deploy cloud-native applications
Enterprises seek cutting-edge ways for application development while lowering TTM (time to market). Object storage acts as a modern data store that is highly scalable and cost-effective. Applications can directly interact with the object store, allowing businesses to scale data as the number of locations or users grows.
The number of devices that generate data across an enterprise is growing these days. These include IoT, smart devices, smartphones, sensors, etc. Large data sets generated within organizations require intelligent processing to drive key insights. 
Object storage is an excellent solution that acts as a data lake where you can dump large data volumes before processing and analysis.
Stack Console Self-Service Object Storage Platform for Ceph RGW
Stack Console allows you to quickly deploy Ceph RADOS Gateway (RGW) instances. The platform offers a centralized console to automatically manage and configure Ceph resources including buckets and users. 
Stack Console offers a robust Cloud Management Platform for Ceph RGW with self-service provisioning and orchestration capabilities. Automate Ceph resource provisioning, orchestration, Service Requests, monitoring, and more- via a single console. 
Adding to this, Stack Console's Self-service Cloud Management Platform allows end-users to manage, provision, and scale Ceph resources on demand. Plus, they can even modify Ceph configurations as per their unique needs.
Billing Solution for Ceph RGW
Bill and charge back your clients for Ceph resource usage through a centralized console. 
Stack Console offers powerful cloud billing and subscription software for MSPs, CSPs, and other service vendors. Leverage this platform to manage, bill, and invoice your customers consistently and accurately for Ceph RGW environments.
In a unified console, you can manage orders, subscriptions, transactions, invoices, and so much more. The platform offers flexible payment models including pay-as-you-go, metered, and other traditional prepaid and postpaid methods.
Get Ready to Unlock the power of Ceph with Stack Console
To conclude, Ceph not only securely replicates data updates but also aids in quick data recovery. It is a holistic storage system that addresses performance, scalability, and reliability issues. This is the reason why web hosting providers and service providers widely choose Ceph.
Want to know more about Stack Console CMP for Ceph? Talk to us right now!