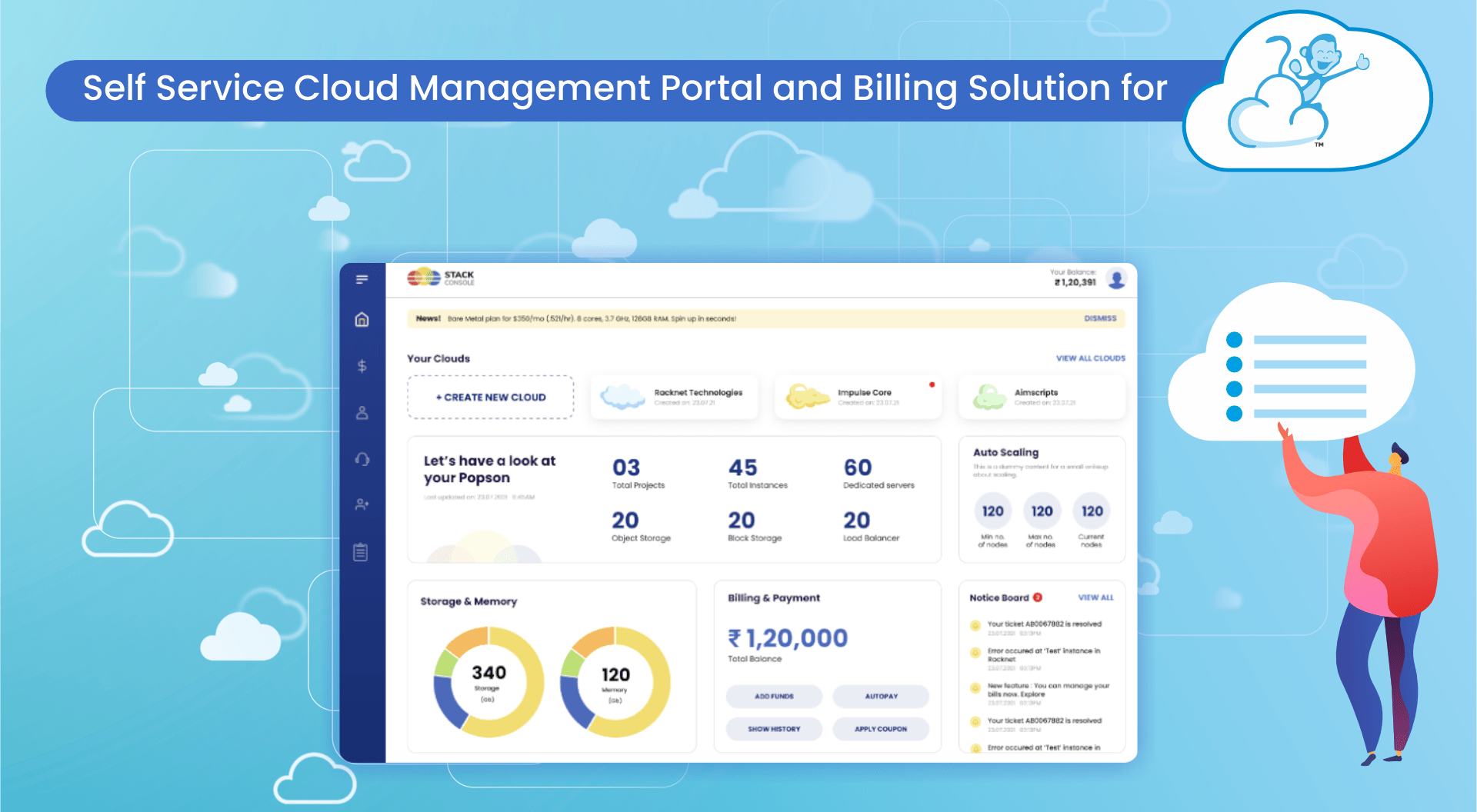 Overview
Apache CloudStack is an open-source, free IaaS (Infrastructure-as-a-Service) platform that orchestrates and helps you reap maximum benefits of cloud computing. It manages pools of network, storage, and other such computing resources to help you build a secure public or private IaaS cloud. This in return drives higher efficiency, scalability and faster deployments.
Stack Console offers a robust Billing Solution for Apache CloudStack which you can leverage to sell cloud in a versatile way. It allows you to sell metered cloud and bill only for resources used by the consumer over a time period, or you can bill for VM usage on hourly basis as per staff-defined sizes. With this module, you can sell cloud in multiple ways such as single VPS, virtual data centers, fixed-size clouds, flexible clouds and much more.
Apart from this, Stack Console also offers Support Ticketing Solution for Apache CloudStack. This portal is exceptionally feature-rich yet intuitive. Customers can easily manage their cloud and its resources without exiting the portal. Through a well-integrated support console, you can easily manage your tickets and delineate self-services such as FAQs and knowledge base.
Benefits of Apache CloudStack
Cloud platforms powered by Apache CloudStack have a competitive edge of being highly efficient, scalable and aid faster deployments. Since it is a robust, open-source orchestration platform with less complexities, it allows you to seamlessly build private, public and hybrid clouds. Furthermore, it offers solid support for multi-tenant, multi-hypervisor and high availability cloud infrastructure. 
In addition to this, CloudStack also adopts automation to create, configure and provision IaaS resources. To sum up, it simplifies the whole process of creating and running a cloud service.
But cloud deployments- be it large or small, demand two seamless functionalities that contribute to the success of a cloud business. These two functions viz. operational tasks (infrastructure management) and business tasks (billing, reporting, ticketing, subscriber management, etc.) need to be streamlined. 
Running a cloud services platform not only requires seamless automation for operational and business tasks, but also strategic planning for billing system, ticketing system, support portal, etc. that can provide a 360-degree visualization into metering, billing, consumption, usage and tickets for each customer. That's when CSPs (cloud service providers) integrate with third-parties to manage their billing systems. Stack Console is a well-integrated platform that brings everything together in a single platform to help CSPs with end-to-end cloud management.
Stack Console for Apache CloudStack
Stack Console solutions closely integrate with Apache CloudStack to make billing and support ticketing a breeze for telco operators, web hosting providers and data centers.
Stack Console Billing Solution for Apache CloudStack:
Stack Console Billing Solution for Apache CloudStack is a robust revenue management platform with which CSPs, telcos, data centers and web hosting providers can offer billing, self- enrollment, and payment facilities to customers along with capacity, cost and usage optimization.
For clouds based on CloudStack, Stack Console offers a single pane of glass to help service providers with their end-to-end management. It acts as a pragmatic layer running on top of systems to automate operational tasks along with catering to the support ticketing and billing management for cloud services. With Stack Console, cloud services powered by Cloud Stack can configure and manage billing for subscribers and monetize XaaS (Anything-as-a-Service) cloud. With this robust platform, service providers will be able to sell cloud in multiple ways. 
The billing solution for CloudStack automates various billing processes, thereby reducing back-end workload of CSPs and boosting their productivity and business agility.
How does Stack Console simplify billing for your clouds powered by CloudStack?
Stack Console billing solution for CloudStack is modelled with exclusive features to aid modern subscription billing for cloud services.
With Stack Console, cloud services powered by CloudStack can leverage below given features:
Service providers can set billing frequencies for various resources. Stack Console offers hourly, monthly and yearly prepaid as well as postpaid billing systems, so service providers gain better control over transactions.
Allows raising invoices for a set period of time to make everything more manageable.
Arrears billing model makes management much easier for CSPs
To simplify tracing of subscriptions, usage and billing, it uses spend-based wallet approach
Subscribers can receive financial reporting in the basic form of monthly account statements and transactional records.
It is a 100% White Label solution for Apache CloudStack, hence it offers custom UI/UX for your cloud business under your own branding
For better user account management, Stack Console comprises policies for account-level termination, restriction or suspension based on approaching credit limits, declining service balances or delayed invoices.
Supports credit limit-based billing, so service providers can offer flexibility to their subscribers to choose their billing plan as per their resource usage.
Stack Console Support Ticketing for Apache CloudStack:
Stack Console Support Ticketing for Apache CloudStack is a support and ticket management platform which provides a bird's eye view into support tickets and helps you administer KB (Knowledge Base), FAQs, etc. for your IaaS. Telco operators, data centers, web hosting providers and cloud service providers will be able to gain benefits from the platform's robust self-service capabilities.
Why Choose Stack Console?
Stack Console aims to empower cloud businesses that offer clouds based on Apache CloudStack. It provides a fully secure and flexible platform to regional and domestic cloud service providers for simplified cloud management. Service providers can easily manage all their subscriptions, tickets, usage, purchases and set up billing cycles for any of their cloud services.
Stack Console is a white label solution for Apache CloudStack which CSPs can leverage to create a custom UI/UX for their cloud business. It is an automated, well-integrated and customizable platform that provides you a competitive edge in the market due to its single cloud management portal. Stay ahead of the game by keeping track of all your billing and support ticketing systems within a unified platform.
For more information on how Stack Console actually works to help you manage your CloudStack-powered cloud services, book a demo today!